The World's First Cycling "Appcessory" for Indoor Fitness Equipment
Easily installed to fitness equipment
XKIT can be installed to nearly any kind of indoor cycle, exercise bike, elliptical and bike with cycle trainer. This means that you can use XKIT with any new or existing fitness equipment and enjoy an awesome indoor fitness experience.
Stationary Bike
Indoor Cycle
Ellitpical
Bicycle with Trainer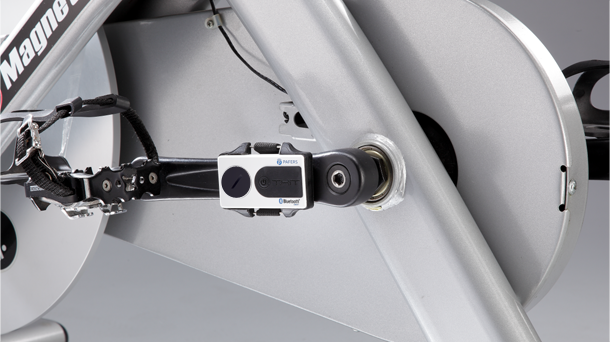 Meet the revolutionary indoor cycling speed sensor
XKIT is revolutionary training device that comes equipped with a high-tech sensor that can be used to track your speed and distance as you pedal. The data is sent to compatible fitness apps so that you can see exactly how fast you are going and how far you have gone.
Smart device powered

Use the latest smart devices and connect to XKIT
Cycling speed detection

Get real-time speed data straight to your smart device
Bluetooth 4.0

Latest wireless technology seamlessly communicates with your smart device
Cycling apps

Experience incredible fitness apps and track your workout data
Transmits real-time speed data to compatible apps
When a user starts pedaling on their fitness machine, the crank and XKIT start to spin. XKIT then gathers and calculates the speed data and transmits it to compatible apps via Bluetooth.

Compatible apps
We've designed exciting and easy-to-use apps for your indoor cycling experience with XKIT.
Cycle on Earth is integrated with Google Maps and lets you experience lifelike routes around the world. Now you can exercise by places like the historic Roman Colosseum and the beautiful coast line in Cape Town right from your home.
Cycle Rush provides a gym-like workout experience while exercising at home. The app comes packed with excellent indoor cycle training programs, motivating coaching sessions, and inspiring music.
Exceptional App for Indoor Cycling
Get in shape with exciting training programs
Stay motivated with in-session professional audio coaching
Multiple training sessions (27 training sessions in 5 different levels)
Excellent workout tracking features
Packed with motivating music created specifically for indoor cycling
Learn more
User Guide
Bike at Home and See the World
Bike around the world with Google Maps integration
View workouts in Street View, Map View and Satellite View
Easy search feature lets you set up routes around the globe in seconds
Analyze performance with great workout tracking features
Share results on social media to get feedback and inspire others
Learn more
User Guide
Compatible Smartphones and Tablets
A smartphone or tablet with built-in Bluetooth 4.0 is required to use XKIT.
iOS 6.0 or later
iPhone 4S (or later)
iPad 3 (or later)
iPad mini 1st Gen (or later)
iPod touch 5th Gen (or later)

Due to insufficient support for Bluetooth Smart (4.0) in most of the Android smartphones and tablets, XKIT is NOT compatible with Android devices.
Specifications
Dimensions: 72mm(L) x 39mm(W) x 15mm(H)
Sends and receive signals up to 30 feet / 10 m
Powered by replaceable CR2032 button cell battery
Bluetooth Smart (4.0) technology
Compatible Apps: Cycle on Earth & Cycle Rush